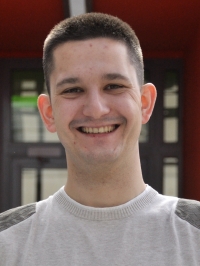 Radosław Mrówczyński, Ph.D, D.Sc.
Degree:
PhD in organic and bioorganic chemistry, Humboldt University of Berlin, 2014
Principal Investigator: "New methods of polydopamine modification for synthesis of multimodal nanomaterials", granted by The National Science Centre under researche programme, number UMO-2014/13/D/ST5/02793
Research interests:
Stereoselective synthesis
Molecular spectroscopy
Heterogeneous catalysis employing magnetic nanoparticles as support for organocatalysts
Magnetic nanoparticles for medical use
Polymer chemistry and soft materials
Selected publications:
R. Mrówczynski, A. Nan, J. Liebscher, Magnetic Nanoparticle-Supported Organocatalysts – An Efficient Way of Recycling and Reuse, RSC Advances 2014, 4, 5927.
R. Mrówczyński, A. Bunge, J. Liebscher, Polydopamine – an organocatalyst rather than an innocent polymer, Chemistry - A European Journal 2014, 20(28), 8674-8653.
R. Mrówczyński, R. Turcu, et al, New versatile polydopamine coated functionalized magnetic nanoparticles, Materials Chemistry and Physics 2013, 138(1), 295-302.
J. Liebscher, R. Mrówczyński, H. A. Scheidt, C. Filip, N. D. Hădade, R. Turcu, A. Bende, S. Beck, Structure of Polydopamine: A Never-Ending Story?, Langmuir 2013, 29, 10539-10548.
R. Mrówczyński, L. Rednic, et al. One-step ligand exchange reaction as an efficient way for functionalization of magnetic nanoparticles, Journal of Nanoparticle Research 2012, 14(7), 1-11.