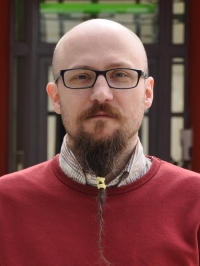 Dr. Mateusz Kempiński
UHV Spectroscopy and Microscopy
Degree:
Ph.D. in Physics, A.Mickiewicz University, Poznań, Poland, 2008
Research interests:
Physics of carbon-based materials and nanostructures (graphite, graphene, fullerenes, CNTs, active carbons) involving: formation of carbon nanostructures, charge transport and spin localization, low temperature behaviour, surface and interfacial phenomena, adsorption phenomena in porous structures
Experimental techniques: ultra-high vacuum surface analysis and sample preparation techniques (scanning probe microscopy, photoelectron spectroscopy, thin films deposition, surface nanostructurization), conductivity measurements, scanning and transmission , electron microscopy, electron spin resonance, contact angle measurements
Selected publications:
W. Kempiński, D. Markowski, M. Kempiński, M. Śliwińska-Bartkowiak, Charge carrier transport control in activated carbon fibers, Carbon 2013, 57, 533-536.
K. Buchta, C. Schmidt, G. Trykowski, S. Biniak, M. Kempinski, T. Lucinski, Magnetization Reversal in Cobalt Nanocolumn Structures Obtained by Glancing Angle Deposition, Acta Physica Polonica A 2012, 121, 1222-1224.
M. Śliwinska–Bartkowiak, H. Drozdowski, M. Kempinski, M. Jazdzewska, Y. Long, J. C. Palmer, K. E. Gubbins, Structural analysis of water and carbon tetrachloride adsorbed in activated carbon fibres, Physical Chemistry Chemical Physics 2012, 14, 7145-7153.
B. Strzelczyk, W. Kempiński, M. Wróblewski, B. Susła, J. Piekoszewski, Z. Werner, M. Barlak, J. Martineka, M. Błaszyk, S. Maćkowiak, Z. Trybuła, S. Łoś, M. Kempiński, Low Temperature STM/STS, Standard AFM and XPS of Local MgBx Phases, Acta Physica Polonica A 2010, 118(2), 417–419.
S. Lijewski, M. Wencka, S. K. Hoffmann, M. Kempinski, W. Kempiński, M. Śliwinska–Bartkowiak, Electron Spin Relaxation and Quantum Localization in Carbon Nanoparticle: Electron Spin Echo Studies, Physical Review B 2008, 77, 014304.