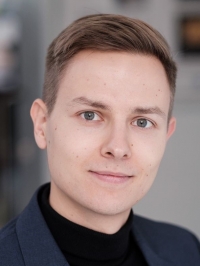 M.Sc. Eng. Jakub Szewczyk
Degree:
Master of Science in Materials Science, Bachelor of Engineering in Chemical Technology, Faculty of Ceramics and Materials Science, AGH University of Science and Technology, Kraków, Poland
Master thesis title: "The influence of pyrolysis parameters on structure, microstructure and oxidation resistance of coatings based on SiAlOC glasses."
Speciality: Functional materials
+48 570 468 587
jakub.szewczyk@amu.edu.pl
Topic: Development and characterization of biomimetic polymer/semiconductor laminar heterojunctions for efficient photocatalytic water splitting
Supervisor: Eng. Emerson Coy, Ph.D, D.Sc.
Department: NanoBioMedical Centre, Adam Mickiewicz University in Poznań
Research interests:
Functional thin coatings,
Potocatalysts for water splitting,
Electron microscopy,
Materials structure investigation.
Selected publications:
Bik, M., Szewczyk, J., Jeleń, P., Długoń, E., Simka, W., Sowa, M., Tyczkowski, J., Balcerzak, J., Bik, E., Mroczka, K., Leśniak, M., Barańska, M. and Sitarz, M. Optimization of the formation of coatings based on SiAlOC glasses via structural, microstructural and electrochemical studies,

Electrochimica Acta

, 2019, 309, p. 44–56.