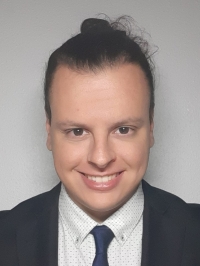 M.Sc. Daniel Aguilar Ferrer
Degree:
Master degree in Nanostructured Materials for Nanotechnology Applications, Institute of Nanoscience of Aragón (INA), University of Zaragoza (Spain)
Bachelor degree in Chemistry, University of Zaragoza (Spain)
Master thesis title: "Synthesis of Manganese-Gold Nanorods Hybrids: Evaluation of Different Experimental Conditions and Enzyme-Like Behavior"
Bachelor degree thesis title: "Development of new catalysts for C-H bond silylation reactions"
daniel.aguilar@amu.edu.pl
Topic: My PhD is based in the synthesis, characterization and the study of the catalytic behavior of hybrid nanomaterials made from metal, metal-oxides and biomimetic polymers. Also the understanding of the interface between them towards photo water splitting
Supervisor: Eng. Emerson Coy, Ph.D, D.Sc.
Department: NanoBioMedical Centre, Adam Mickiewicz University in Poznań
Research interests:
Synthesis of nanoparticulated composites
Nanocomposites characterization using several methods and instruments (XRD, UV-Vis, FTIR, HR-TEM, STEM-EELS…)
Investigation of the nanoparticulated composites interfaces
Photoactivity study