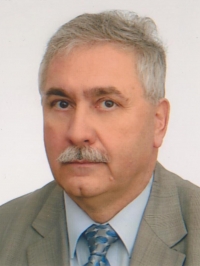 Prof. MD. Ryszard Słomski
Member of a Research Council and NBMC Council
Degree:
Habilitation in medicine
Full professor of medicine
Head of the Department of Biochemistry and Biotechnology, Poznań University of Life Sciences
Professor at Institute of Human Genetics, Polish Academy of Sciences in Poznan
+48 61 848 7202
slomski@up.poznan.pl
Research interests:
Preparation of gene constructs containing human genes, nanodelivery to bacterial and animal cells, including large animals and preparation of other gene constructs for prokaryotic and eukaryotic systems
Characterization of novel human, animal and plant genes
Paternity and relationship testing based on DNA studies
Molecular diagnostics of human diseases
Bioimaging
Selected publications:
A. Woźniak, D. Lipiński B. Gawrońska, W. Juzwa, J. Jura, A. Nowak, Z. Smorąg, M. Szalata, U. Mazurek, J. Zeyland, R. Slomski, Double transgenic pigs with combined expression of human α1,2-fucosyltransferase and α-galactosidase designed to avoid hyperacute xenograft rejection, Archivum Immunologiae et Therapiae Experimentalis 2014, 62, 411-422.
J. Mikołajczyk-Stecyna, A. Korcz, R. Słomski, M. Gabriel, K. Pawlaczyk, G. Oszkinis, Risk factors in abdominal aortic aneurysm and aortoiliac occlusive disease and differences between them. Scientific Reports 2013, 3, 3528
A. Hnatyszyn, K. Wielgus, M. Kaczmarek-Rys, M. Skrzypczak-Zielinska, M. Szalata, J. Mikolajczyk-Stecyna, J. Stanczyk, I. Dziub, A. Mikstacki, R. Slomski Interleukin-1 Gene Polymorphisms in Chronic Gastritis Patients Infected with Helicobacter pylori as Risk Factors of Gastric Cancer Development, Archivum Immunologiae et Therapiae Experimentalis 2013, 61(6), 503-512.
W. Horst-Sikorska, J. Dytfeld, A. Wawrzyniak, M. Marcinkowska, M. Michalak, E. Franek, L. Napiórkowska, N. Drwęska, R. Słomski, Vitamin D receptor gene polymorphisms, bone mineral density and fractures in postmenopausal women with osteoporosis, Molecular Biology Reports 2013, 40(1), 383-90.
J. Zeyland, B. Gawrońska, W. Juzwa, J. Jura, A. Nowak, R. Słomski, Z. Smorąg, M. Szalata, A. Woźniak, D. Lipiński, Transgenic pigs designed to express human α-galactosidase to avoid humoral xenograft rejection, Journal of Applied Genetics 2013, 54(3), 293-303.