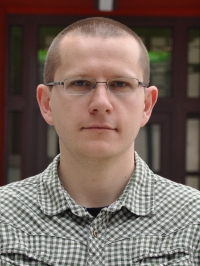 Dr. Eng. Krzysztof Tadyszak
Degree:
Ph.D. in Physics, Specialty: Condensed Matter Physics, Institute of Molecular Physics Polish Academy of Sciences
Research interests:
Electron Paramagnetic Resonance (EPR) and Imaging (EPRI) - EPRI MANUAL WITH EXAMPLES
Solid foams (graphene oxide aerogels)
Magnetism, electrical conductivity, electrochemistry
Selected publications:
M. A. Augustyniak-Jabłokow, K. Tadyszak, M. Maćkowiak, S. Lijewski, ESR study of spin relaxation in graphene, Chemical Physics Letters 2013, 557(5), 118–122.
M. Yu. Yablokov, A. B. Gilman, M. A. Augustyniak-Yablokow, K. Tadyszak, A. A. Kuznetsov, An ESR study of the polymer synthesized from 1-aminonaphthalene by plasma polymerization, High Energy Chemistry 2013, 47(5), 273-275.
A. Gilman, M. Yablokov, M. Augustyniak-Jablokov, K. Tadyszak, A. Kuznetsov, Polymerization of 1-Naphthylamine by DC discharge, Journal of Physics: Conference Series2012, 406, 012-020.
M. A. Augustyniak-Jabłokow, K. Tadyszak, M. Maćkowiak, Y. V. Yablokov, EPR evidence of antiferromagnetic ordering in single-layer graphene, Physica Status Solidi - Rapid Research Letters 2011, 5(8), 271–273.
S. K. Hoffmann, J. Goslar, K. Tadyszak, Electronic structure and dynamics of low symmetry Cu2+ complexes in kainite-type crystal KZnClSO4 3H2O: EPR and ESE studies, Journal of Magnetic Resonance 2010, 205, 293–303.