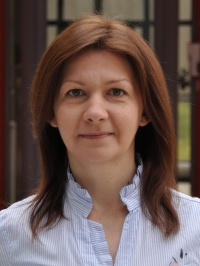 Anna Woźniak, Ph.D, D.Sc.
Degree:
Ph.D. in Biology, Poznań University of Medical Science
Research interests:
In vitro and in vivo nanotoxicity (cytotoxicity, genotoxicity) of nanoparticles for biomedical applications
Mono- and multimodal nanoparticles functionality for biomedical applications
Nanoparticle-based targeted therapy for cancer diseases, multimodal imaging and theranostics
Selected publications:
A. Woźniak, D. Lipinski, J. Zeyland, A. Nowak, K. Nuc, B. Rynska, Z. Smorag, R. Slomski, Molecular and cytogenetic characterization of human albumin transgenic goat fibroblasts as a source of nuclei in the somatic cloning, Annals of Animal Science 2011, 11, 61-70.
A. Woźniak, D. Wolnik-Brzozowska, M. Wisniewska, R. Glazar, A. Materna-Kiryluk, T. Moszura, M. Badura-Stronka, J. Skolozdrzy, M. R. Krawczynski, J. Zeyland, w. Bobkowski, R. Slomski, A. Latos-Bielenska, A. Siwinska, Frequency of 22q11.2 microdeletion in children with congenital heart defects in Western Poland. BMC Pediatrics 2010, 10, 88.
J. Sulko, M. Czarny-Ratajczak, A. Woźniak, A. Latos-Bielenska, K. Kozlowski, Novel amino acid substitution in the Y-position of collagene type II causes spondyloepimetaphyseal dysplasia congenital, American Journal of Medical Genetics 2005, 137A(3), 292.