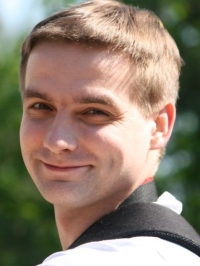 M.Sc. Eng. Szymon Murawka
Degree:
M.Sc. Eng., Poznan University of Technology - Faculty of Technical Physics, specialization: Nanotechnology and Functional Materials
Title of Engineering thesis: "Adaptation of the SPM system for work under high vacuum conditions"
Title of Master thesis: "Investigation of morphology and electronic properties of thin metallic layers deposited on semiconductor substrates"
szymon.murawka@amu.edu.pl
Topic: "Plasmonic nanostructures fabricated by self-organization method"
Supervisor: Mikołaj Lewandowski, Ph.D, D.Sc.
Department: NanoBioMedical Centre, Adam Mickiewicz University in Poznan
Research interests:
Experimental physics.
Research methods of solid-state physics
Low-dimensional and mesoscopic structures, plasmonic systems, nanoelectronics
Vacuum systems
Practical electronics
Selected publications:
S. Murawka, W. Andrzejewska, Z. Miłosz, M. Lewandowski, "Towards self-organized arrays of Au nanoparticles for SERS-based biosensing applications", 35th European Conference on Surface Science (ECOSS-35)