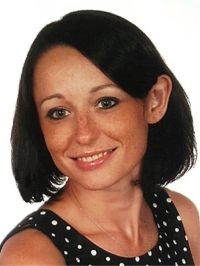 Dr. Anna Szeląg
Degree:
Ph.D. in Polymer Chemistry, Centre of Molecular and Macromolecular Studies, Polish Academy of Sciences, Lodz, Poland, 2011
Research interests:
Surface organometallic chemistry on silicon (SOMC) for photovoltaic application
Functionalization of silicon wafer and ITO surfaces, synthesis and characterization of HTM films for solar cells application (ATR-FTIR, DRIFT-FTIR, UV-VIS, SE, XPS, TEM)
Polymer chemistry (ATRP, ROP), polymer liquid crystals, the Piers-Rubinsztajn reaction, hydrosilylation, condensation reaction with organosilicon compounds
REACH regulation
Patents / patent applications:
Selected publications:
A. Szeląg, Nanostruktury krzemowo-polimerowe, Nauka i Przemysł 2011, Politechnika Krakowska im. T. Kościuszko, I, 146-151.
W. A. Stańczyk, A. Szeląg, J. Kurjata, E. Nowinowski-Kruszelnicki, A. Walczak, Liquid Crystal Mono- and nano-layer covalently bonded to silicon and silica surface for alignment of LC Layers, Molecular Crystals and Liquid Crystals 2010, 526, 18-27.
A. Szeląg, A. Trybała, W. A. Stańczyk, Liquid crystals monolayers on silicon surface, Polish Journal of Applied Chemistry 2009, LIII(1), 93-99.
A. Czech, T. Ganicz, M. Noskowska, W. A. Stańczyk, A. Szeląg, Phenylethenyl-substituted silicones via Heck coupling reaction, Journal of Organometallic Chemistry 2009, 694, 3386–3389.
A. Czech, W. Duczmal, T. Ganicz, M. Noskowska, W. A. Stańczyk, A. Szeląg, High Refraction Index Polysiloxanes via Organometallic Routes in Silicon based Polymers, (ed. S. Boileau, B. Boury, F. Ganachaud), Springer Verlag, 2008, 153-162.
W. A. Stańczyk, A. Szeląg, A. M. Wróbel, Mesogenic Monolayers on Silicon Surface in Supramolecular Chemistry and Advanced Materials, Jagiellonian University, Cracow, 2007, 58-61.