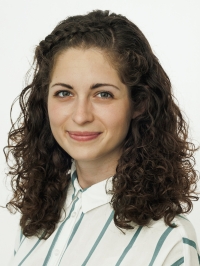 M.Sc. Eng. Dominika Tubacka
Degree:
M.Sc. Eng., Chemical and Process Engineering, Biomaterials and Bioprocess Engineering, Poznan University of Technology, Department of Chemical Technology
Title of Engineer thesis: "Determination of formaldehyde released from 2-bromo-2-nitropropane-1,3-diol present in cosmetic by LC-UV technique"
Title of Master thesis: "Determination of capsaicinoids in dietary suplement by HPLC-UV technique"
dominika.tubacka@amu.edu.pl
Topic: Revealing mechanisms of ionic motion in superionic inorganic materials for tailoring novel solid electrolytes
Supervisor: Kosma Szutkowski, Ph.D, D.Sc.
Department: NanoBioMedical Centre, Adam Mickiewicz University in Poznan
Research interests:
Synthesis, modification and characterisiation of solid state electrolites
Structural phase transitions